Javascript must be enabled to continue!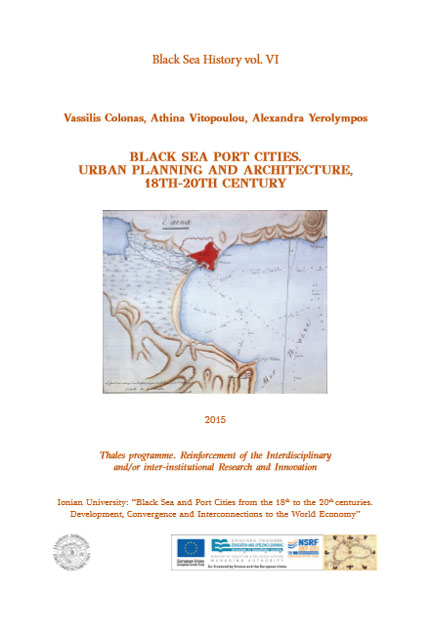 Architecture and City planning in the Black Sea port-cities
Vassilis Colonas, Alexandra Yerolympos and Athina Vitopoulou
Vassilis Colonas, Alexandra Yerolympos and Athina Vitopoulou, Architecture and City planning in the Black Sea port-cities, Black Sea History Project Working Papers, volume 6
---
The aim of the research was to examine the historical evolution and urban transformations of twenty two (22) port cities lying around the Black Sea coast, from the end of 18th to the beginning of 20th centuries and belonging nowadays to six states. These port cities are: Varna, Burgas, Costanza, Braila, Galati, Odessa, Nikolayev, Kherson, Yevpatoria, Sevastopol, Theodosia, Kerch, Berdyansk, Mariupol, Taganrog, Rostov on Don, Novorossiysk, Batumi, Trabzon, Giresun, Samsun and Sinop.
The research was based on works dealing with the broader context of the development of the city, on studies on urban Europe and the specific character of the Russian, Ottoman and Balkan experience, as well as on primary sources found in various national or local archives, mainly city plans, urban design projects and construction plans for infrastructures.
The main goals were:
a) to formulate a framework of comparative analysis between the Black Sea port-cities and
b) to outline the key stages in the urban transformations, show the interplay of new life patterns and urban forms and bring forward affiliations and discrepancies of the developed formal and land use patterns.
The second part of the book aims to identify similarities and differences, continuities and discontinuities in the image of these cities in their evolution from a traditional structure to a modern port- city, mainly through the activity of Greek communities in the modernization process of the building sector. Regarding architecture -in connection with the activities of other research groups and members of this subprogram- independent texts will be presented for the following port cities: Odessa (Ukraine) and Taganrog (Russian Federation), Braila (Romania), Istanbul Trabzon (Turkey). In this as far as possible detailed presentation of architecture in these cities is not included Batumi (Georgia) -although it is the only city that belonged to both the Ottoman and Russian empires- for the limited activity of its Greek population in the making of the city and its architecture.
Table of contents
PART I. BLACK SEA PORT-CITIES IN EVOLUTION: PLANNING AND INFRASTRUCTURES
Ιntroduction
Formulating hypotheses, comparing perspectives (A. Yerolympos, A. Vitopoulou)
Chapter 1.
Dynamics of change and spatial development of the Black Sea port cities: a comparative framework (A. Yerolympos, A. Vitopoulou)
Chapter 2. Black Sea Northern Coast
The making of a new town. Rise and decline of Odessa, 1794-1917 (A. Yerolympos, A. Vitopoulou)
Chapter 3. Black Sea Western Coast
Constantza. The city and the port (A. Yerolympos)
Varna in the wake of the 20th century (A. Yerolympos)
Origin and development of Braila (N. Lascu)
Chapter 4. Black Sea Southern Coast
Trabzon and Samsun: Ottoman port cities of the Black Sea at the threshold of modernity (A. Vitopoulou, A. Yerolympos)
Concluding remarks
Shared models and practices in the transformation of Black Sea port cities (A. Yerolympos, A. Vitopoulou)
PART II. BETWEEN TWO EMPIRES. ARCHITECTURE AND GREEK COMMUNITIES ON THE SHORES OF THE BLACK SEA AT THE END OF THE 19TH CENTURY
Introduction (V. Colonas)
Chapter 1. Port-cities in the Russian Empire: The Greeks of Odessa and the Architecture of the City (V. Colonas)
Chapter 2. Port-cities in the Russian Empire: Cities of the Azov sea region in the 19th century: the case of Taganrog (V. Colonas)
Chapter 3. The architectural expression of Greeks in Romania (Bucharest and Braila) (V. Colonas)
Chapter 4. Port-cities in the Ottoman Empire: Commercial and apartment buildings in Constantinople (V. Colonas)
Chapter 5. Port-cities in the Ottoman Empire:The Black Sea cities (V. Colonas)